LIFE BEFORE BIRTH AND AFTER DEATH
Regular price

Sale price

Rs. 70.00

Unit price

per
Get it between -
At some point in the journey of existence, the questions arise, "What is the purpose of life?". "Who exactly am I?" These questions arise in the mids of all persons, consciously or subconsciously. The parameters, for both king and commoner alike, are Birth and Death. Even more pronouned is the question, "What was the state of life before birth and what actually becomes of life after death?". This is a perfectly legitimate query which has not been satisfactorily answered by religious leaders or scientists. It is no wonder, for these two cadres operate under severe limitations and inhibitions, generated for the most part, by their own approaches and modes of analysis.
Share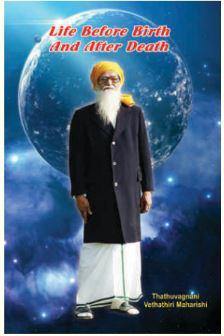 Cheats
Did not deliver my order. Inspire of my continued messages through chat and mail, no response.
Can imagine how their organization runs! Worst experience. Took money online through razor pay and mailed order on the way and then write a review. I am messaging and mailing several times order is not delivered, but no response.
LIFE BEFORE BIRTH AND AFTER DEATH
The Truth is Explained
The Truth is explained in a easy way to even a common man
Excellent Sirs
We received all the books sir. Excellent service to the humanity by WCSC, which proves that " Manava seva ye Madhava Seva". Thank you sirs / madam`s once again.